Current Design and Product Development Projects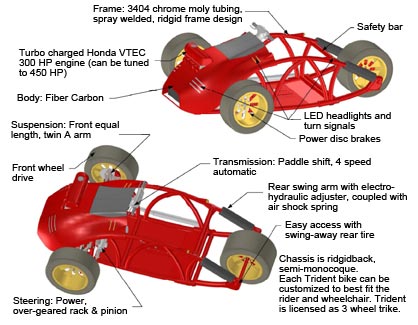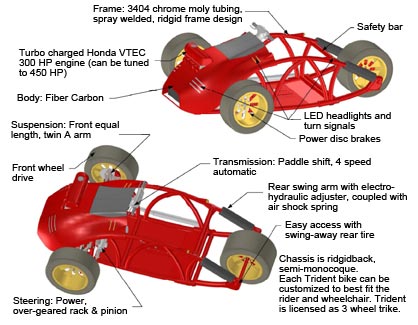 PDG–Pingel Design Group is currently designing and developing a wheelchair accessible motorcycle. The Trident™ wheelchair motorcycle is designed to accomodate any type of wheelchair, including electric wheelchairs. The minimalist design approach captures the look and feel of a traditional motorcycle.
PDG is designing and developing the first multi-fuel, wheelchair accessible motorcycle using earth stewardship design principles which incorporate reuse/repurpose elements
The Trident™ wheelchair motorcycle is an eco-friendly design, that can run on regular gas, alchol, CNG (Compressed Natural Gas), or hydrogen; making it a low or no pollution motorcycle. The frame design tightly constrains the wheelchair, it is rigid by both material and shape, which helps protect the rider. Multiple retaining points are used to hold the wheelchair and rider, which creates failsafe redundancy. Each motorcycle can be customized to best fit the rider and their wheelchair and the licensing of the motorcycle is as a 3-wheel trike.
Features of the Trident™ wheelchair motorcycle
Easy access entry –Kneeling chassis with swing-away tire. Rear swing arm has electric-hydraulic adjuster, coupled with air shock spring (for smooth ride and to lower bike for access)
Steering – Over-geared, power rack & pinion. With 0° as center line handlebars, will turn the wheels (fully locked) at 45° left and 45° right
Transmission – 4 speed automatic, paddle shift
Suspension – front is equal length, twin A arm. Rear swing arm has electric-hydraulic adjuster, coupled with air shock spring
Frame – 3404 chrome moly tube, rigid frame design, spray welded
Brakes – power disc
Engine/Fuel – Front wheel drive, rigid mounted, several engines can be used; Honda, Ford, GM, initally Honda 300 HP VTEC turbo-charged. Fuel: regular gas, alchol, CNG (Compressed Natural Gas), or hydrogen
Safety – All operational controls are on the handlebars, including a quick-kill switch. Seatbelt for the rider, restraining belts for the wheelchair, wheelchair lockdown, safety bar restraint for the wheelchair
All design rights and patent rights are property of Pingel Design Group Inc. The review of these documents does not constitute a public display and is considered secret, not for public review. No copies or distribution of this document is allowed. There is not implied use of the desing to anyone other than its owner Pingel Design Group Inc. The information contained on this page is privileged and confidential and thus is protected from disclosure. This information is NOT intended for transmission to, or receipt by, anyone other than a person authorized to review this document. You are hereby notified that any dissemination, distribution or copying of this communication is strictly prohibited.
©Copyright 2013, Patent pending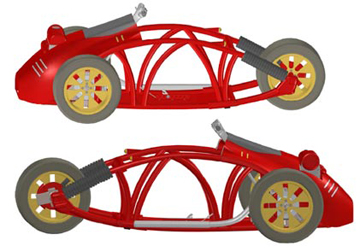 All design rights and patent rights are property of Pingel Design Group Inc. The review of these documents does not constitute a public display and is considered secret, not for public review. No copies or distribution of this document is allowed. There is not implied use of the desing to anyone other than its owner Pingel Design Group Inc. The information contained on this page is privileged and confidential and thus is protected from disclosure. This information is NOT intended for transmission to, or receipt by, anyone other than a person authorized to review this document. You are hereby notified that any dissemination, distribution or copying of this communication is strictly prohibited.
©Copyright 2013, Patent pending